The first international producers of the Asturies Cider Festival tasting room have already been confirmed. Very soon we will give more information and we will get the tickets for this pioneering festival in Asturias.
WEIDMANN & GROH | (tasting room)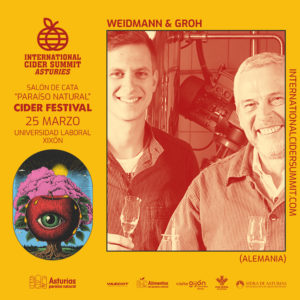 Agriculture has been practised on the Weidmann farm in Ockstadt for generations. In 1986, Reiner Weidmann decided to build a distillery to refine the local fruit and, two years later, they produced the first fruit brandy. Although the original idea was to produce their own liqueurs, the demand for distilling was so great that the elderly father, Robert, started to run it as a business. Over the years, the distillery has successively adapted to the latest advances in technology, thus optimising the quality of the spirits.
In 2006, the son-in-law, Norman Groh, started training to become a "state-certified distiller" in Offenburg. With the completion of the training followed in 2008 the entry into the company and the foundation of "Weidmann & Groh GbR".
For more than 10 years, Norman Groh has been in charge of the distillery as managing partner until in 2019, after the death of Reiner Weidmann, it became a sole proprietorship, which is still managed by Norman Groh.
POMOLOGIK | (Tasting room)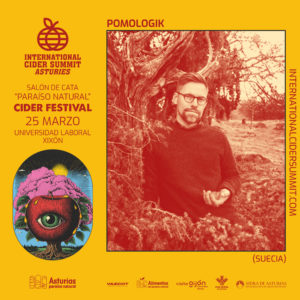 A new Swedish cider culture emerged from traditional methods with artisanal knowledge of the grape's northern counterpart, the apple. Through natural fermentation and storage in oak barrels, they bring out new expressions of the Swedish apple that reflect the place of growth and harvest. Real cider, no frills.
They are passionate about a 100% fruit-based Swedish craft cider with a focus on origin, growing location and variety. Not just for their sake and yours, but for the sake of Swedish apple growers. For too long, Swedish cider has been based on concentrates and flavourings. If they can change that, they can also give more Swedish farmers the opportunity to make a living from apple growing.
MR. PLUME | (Tasting room)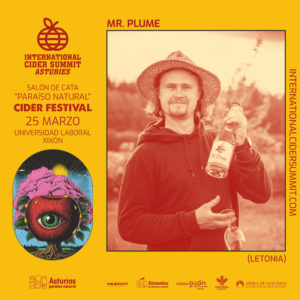 Māris and Dace Plūme do all the work: from spreading, cultivation and care of apples and pears to harvesting, juicing and fermentation. Knowledge gained both from working in the best cider houses in France and Austria, as well as from their own experience since 2010, experimenting with various cider and wine making techniques.
The cider press also produces fruit and berry wines as well as strong drinks. Quality is their chosen direction: they try to improve it continuously, unceasingly. You can't make excellent drinks with just any fruit, only the best, that's why they focus on growing fruit themselves. In autumn, they often go on an "apple safari": They "hunt" for interesting seeds from which they harvest the crop and add the best candidates to our collection of varieties. The apple varieties discovered by themselves have already expanded in the orchard: the silver apple from Pāvilosta and the bitter apple from Kaibala, as well as "Aizputes bumbiers" and other unique species.