During the two days of the festival (Saturday 25 and Sunday 26) there will be musical performances on the DJ stage. Among the artists that will participate are Llevolu'l sumicio, Helios amor, Adolfo Sputnik and L. A. Oggnissanti. The complete program can be consulted here.
LLEVOLU'L SUMICIU – Saturday 25 at 20:45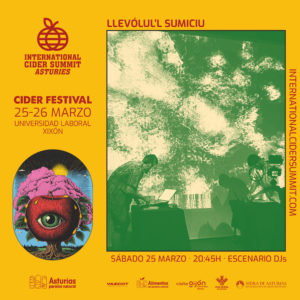 Llevólul'l Sumiciu was born in 2020 with the intention of playing Asturian and electronic music. The project is formed by brothers Pablo and David Alonso, who are in charge of the musical and visual stays respectively. They define themselves as an audiovisual project au la imáxe and the music is moved to reinterpret the Asturian imaginary in an experimental way.
For the visual part, be inspired by images from the archives that reflect the costumes of the 70s and 80s, the mining and industrial heritage and from time to time the work of local artists. The sound part is based on traditional songs accompanied by reggaeton rhythms or funk dance and good doses of distortion and glitches.
Llevólu'l Sucimiu restolen pente the music and the scenery, pente l'Asturias native and the Caribbean, pente'l past and the future.
The duu takes that expression as a name and that attitude as a method to create his first EP "Entaina", a set of six songs that contain melodies and rhythms of the Asturian tradition to rock them with more contemporary music.
HELIOS AMOR – Sunday 26 at 12:00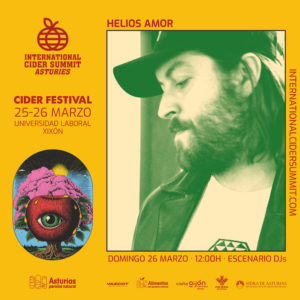 Helios Amor is a good example to understand the socio-musical movement in the city of Gijón and to understand the evolution of the local DJ scene. A guy involved in projects of the most diverse, —interpretation, teaching, sport—, whose musical concern awoke decades ago. In the year 95 he treasured in his suitcase the records of KDJ, Maurizio and M-Plant. Although his exploits today are not limited to accumulating music and playing it gracefully on a turntable, Helios has become an amateur keyboard player in love with the Fender Rhodes and the MPC samplers, who has mixed for various national jazz bands as well as having participated as DJ in different formations. In 2017, together with Jaime Tellado (Skygaze), he formed Yamaralazu, a collaborative project based mainly on the exploration of jazz music in conjunction with other current currents: deep house, abstract hip hop or disruptive electronica. But his influences do not stop there and in his blood he carries a passion for traditional Brazilian music, soul and funk. In short, a guy whose art undoubtedly accompanies him beyond the stage.
ADOLFO SPUTNIK – Saturday 25 at 5:30 p.m.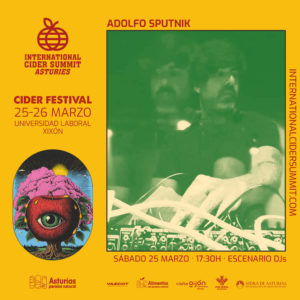 Founder of the place with the same name, his regional trajectory is very broad as well as having an imminent national projection. The famous Holy Party, Metropolis, Vibra Mahou Fest, Gijón Sound Festival, Neverland, Loft.co, Lovejoy, Hypnosis, Florida Retiro and Minitel de Madrid, Legal Deposit in Hospitalet, have been the scene of his wide variety of sound waves as well as his collaborations with the prestigious brands Levi's and Red Bull.
His sessions go through the freshest indie, the most elegant disco and melodic house, the most refined new age or the most personalized ambient. A fun rhythmic proposal with which to spend the sole of your shoes.
THE. OGNISSANTI – Saturday 25 at 1:00 p.m. and Sunday 26 at 3:00 p.m.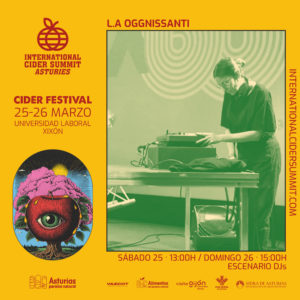 In permanent search for new sounds, L.A Oggnissanti was born in the now-defunct venue of musical reference "El Patio de la Favorita" and since then it has passed through numerous venues and events that have taken place in the city. Indie Rock, R&B, kumbia, new-wave, trap, Synth pop, Avant Pop in their prepared sets anything can happen.